Bentley Drivers Club 60th Anniversary Silverstone August 8th / 9th . .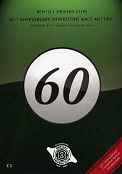 Reflecting on a history of cars and people while surrounded by some of the same machinery that graced the airfield
circuit in period, was a wonderful way to help the BDC celebrate their 60th. You were unlikely not to be moved by Le Mans winners from the 1920's or the 24 litre Napier-Railton built and raced at Brooklands, or the Bentley Speed 8 that won Le Mans in 2003. From treasured artefacts to everyday runabouts, the gathering underlined a significant event in a proud racing heritage.
Practice - Three WSM's entered the 'Equipe' GTS half hour races on Saturday and Sunday, and joined a stellar gathering of 39 cars on the Club circuit grid, including eight entries for Class 2 up to 1400cc. Mark Ashworth's TVR
Grantura took pole with 1.11, with four MGB's less than two seconds off his early morning pace. Then followed a nine car blitz all clocked at 1.14
and various fractions from 6th to 14th. This pitched Triumph TR4 v TVR Grantura v MGB v Healey 100M and set the juices flowing for a 1pm race. Diane Osbourne impressed with a 1.14.61 in her MGB, and the four series newcomers Charles Clegg (Sebring Sprite), Clare Surtees and Keith Page (MGB) looked immediately at home, with Keith Ahlers bringing his famous TOK 258 Morgan Plus4 that won its class at Le Mans in 1962 in the hands of Chris Lawrence and Richard Shepherd Baron.

Race 1 - Ashworth and Tom Smith (MGB) were locked in combat for 15 minutes. Occasionally a front row dispute plays into the hands of the pursuers, but the MGB's of David Beresford and Jerry Stock were too embroiled in their own podium dispute to take advantage. Ashworth's fading brakes brought an end to a see-sawing battle, and
Smith strolled away to a 24 second gap. Meanwhile the 'Fast Moustache' justified the grandchildren's demands that he carry number 1 and pipped Stock by a bumpers width at the flag. Pete Foster triumphed in the TR4 scrap with John Andon for 5th and class 5 trinkets, and Colin Pearcy's Morgan Plus4 pushed Mike Thorne's superb Healey 100M to 7th. Harvey Woods topped class 2 in his rapid Ashley MG Midget in 12th as the WSM challenge faded, with the feisty Helen Elstrop Spitfire not far adrift in 14th.
Trevor Kemp made sure the trip from France was justified with class 3 honours, and Clegg brought the immaculate class 1 Sebring home safe and sound under the watchful eye of spectating father Chris. Gasket failure on WSM 202 with Brian Arculus and fuel issues with the blue WSM 208 left Clive Cocks flying the marque flag with 4th in class in WSM 210.
Race 2 - An unusual amount of DNF's in race one added another exciting edge as all the faster starters at the back looked for

appropriate gaps - Mike Harris (MGB) and Mark Pangborn (Healey100M) demonstrated real craft in getting up to 9th and 10th, the MGB's of Graham Shrigley-Jones and Nick Crewdson manoeuvred up to 13th and 17th, while serial racer Ahlers crowned his 'Equipe' debut with an artful drive to 6th in TOK. Up front Ashworth had the brakes sorted and the
anticipated race unfolded with Smith in determined form, but Ashworth lead until a spin at the end of lap two. He got back on Smith's case and re-took the lead at mid distance and despite the MGB driver's best efforts, it was Ashworth's day by .69s. Foster won the tussle with Beresford and Stock and they helped keep his class 5 rival

Andon at bay. Mind you, Foster has wife Susie to answer to on his return, explaining why his strongest laps are always at the finale of the race as time draws near to face the music from his staunchest supporter. Woods did the double in class 2 , as did Kemp's Elva Courier in class 3 and Clegg in class one. WSM interest centred on 208 getting from the back to 12th spot within a lap, but wheel bearing failure a few laps from home stymied the run. The Arculus WSM retired with a temperature gauge going off the scale, leaving Cocks to garner a few crumbs with another 4th place.
Click on for race results from HS Sports Timing
Pit and Paddock

Clive Cocks (WSM 210) tries to get inside info on the fuel strategy of WSM 208 before race one . .

Hospitality amongst the 'Equipe' grid is second to none - we arrived with WSM 208 early on Friday afternoon to find Brian and Pat Arculus had

already erected a four garage awning to include the WSM's. Then the delightful Sarah Harris, who trucked the Harris motorhome and trailer into position hours before husband Mike's arrival, offered tea and coffee while assembling the Harris garage with the other hand . .
Marc Lafon, pilote of an immaculate blue MGB, responded to Monsieur Willmart's prompting at Le Mans in July and arrived with champagne from Reims en masse for a pre-bbq drink on Saturday evening - Marc's wife Veronique then conducted a toast in excellent English. Returning the compliment next season with a crate of Boddington's from Manchester won't quite cut the mustard . .

Vicky Dollimore, partner to Tim Cairns who shares the McKoen MG Midget, revealed all and it transpires we both went to the Gables Primary School in Leighton Buzzard in the 20th century - suffice to say we both remembered Sports Day . .
Driver of The Day - The MGB of Nick Crewdson and WSM 208 were lashed up and hauled off circuit by the excellent marshalling team. With varying lengths of rope and the crane 'adjusting', the truckie threaded his way through the needle. We followed . . .
Great to meet future and ex-WSM owners Paul Hull (far right) and Geoff Hill, pictured here with DW-S, Paul Webb (far left) and
behatted aviator Chris Parker. Ex- Delta garages and WSM owner Robin Pinkerton was in good form, as was restoration guru John Maye, Sprite expert Ian Grainger and ex-WSM 201 owner Tim Barrett .
A 'Wing' of WSM's ?
Pictures courtesy of Paul Webb
Next 'Equipe' GTS races at Zandvoort September 12th / 13th . .