.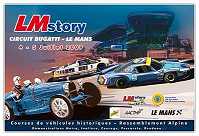 Le Mans with 'Equipe' GTS . .
Un Plateau Prestigieux De Vehicules Historiques . .
The fourth edition of the L'ASA ACO Paris organised LM Story on the Bugatti circuit lured 27 starters to a 9.30am practice with the
'Equipe' grid on Saturday, amongst them a trio of Morgan Plus 4's contesting also the John Macdonald Morgan Centenary Trophy - this magnificent trophy will continue to be awarded for the best placed Morgan in 'Equipe' GTS races and marks the Centenary of production for the marque in 2009.
Race 1 - With a 10pm start scheduled, some 12 hours elapsed between practice and race. The uphill start certainly caused a problem for polesitter Pete Foster, the evergreen pilote inexplicably tumbled down the order and earned a tongue lashing from wife Susie on his return, despite having recovered to 5th - his mistake was to record fastest lap on his last tour. Rob Cull was the main beneficiary, his TVR Grantura making a flying start and holding off the Jerry Stock MGB by 2 seconds for a
deserved win after a titanic struggle, with the organisers turning a Nelsonian eye to failed headlights on the TVR, and Mark Lambert sportingly handed the third place trophy to David Beresford after cutting a chicane drastically to make the decisive pass. Andrew Lawley impressed on his debut with the 'Equipe' series, and his MGB kept another series debutante Richard Plant (Morgan Plus 4) and the John Andon TR4 at bay. Mark Way completed an airborne double pike and twist to get his MGB deep into the gravel and so nearly rolled before resuming for 12th. Paul Garside cleaned up Class 2 in his gorgeous Lotus Elite after the demise of the blue WSM 208 early on, and dynamo failure on the Clive Cocks WSM. The Trevor Kemp Elva Courier was untouchable in Class 3, and Foster took the Class 5 spoils as some recompense.
Race 2 - The Battle of La Sarthe continued at Sunday lunchtime with Cull and Stock inseparable up front, but a watchful 'Fast
Moustache' Beresford claimed 2nd when Cull went off track. Stock was imperious though, and underlined as much with fastest lap of the week-end. Brian Lambert held up family honour with a strong 5th spot, and kept the Foster entourage on the boil with his MGB nose firmly up the Foster chuff in 4th. Alex Quattlebaum found 9 seconds per lap improvement since Saturday morning for 6th, and the South Carolina resident clearly had his Elva Courier singing the right song after recent
restoration. Ron Watt made serene progress to 8th, while the recently acquired Morgan Plus 4 of Colin Pearcy made a gallant but vain effort to wrest the very large spoils away from a deserving Plant. Newcomer Stuart Downward enhanced the grid with his achingly pretty Lancia Fulvia, while Keith Hampson resisted barrelling off down the Mulsanne again in his superbly original 1962/63 works Le Mans entry Sunbeam Alpine, but could not prevent Garside, Kemp and Foster retaining Class honours.