LM Story - 'Equipe' GTS at Le Mans Circuit Bugatti . .
Un Plateau Prestigieux De Vehicules Historiques . .
Two races on arguably the most famous circuit in the world, and in company with some truly stunning historic machinery, guaranteed a strong grid at Le Sarthe for the UK and MGB based series. The third edition of the L'ASA ACO Paris organised event attracted 350 entries, and as usual, 'Equipe' racing grabbed some headlines -
PRACTICE - an almost inseparable top three was headed by James Cottingham (2.07.642), with Neil Howe (2.07.764) and Tom Smith (2.07.851). Steve Mills continued to head the 'MGB rookie' class in 4th ( 2.09.952), with Malcolm Johnson perhaps surprised to be adrift in 5th (2.10.373). However, 6th place Jeremy Cottingham (2.11.301) was guaranteed a close race with the five next MGB's registering 2.11's down to Jurgen Felske in 11th place. Newcomer Marc Lafon found the circuit to his MGB liking, as did Paul Madden in the ex-Richard Bull TR4, but John Pearson in the WSM Midget had a misfire and Paul Freeman broke a halfshaft early on.
RACE 1 - The struggle between the top three went awry after lap nine. Smith had fallen behind the Johnson MGB early on, but battled back past Johnson and Howe to pressure James Cottingham remorselessly until Smith's halfshaft gave up the fight - no doubt heads were scratched at MG Motorsport - and Howe was left to a comfortable second place. Mills took the fight to Johnson for third spot, but the closest scrap was fought for 7th with Steven Radcliffe and Jerry Stock in entertaining form. Angus Dent was the recipient of a black flag after four laps, particularly gaulling (sic) when subsequently found to be the wrong car, while mechanical woes put out the Elite of Pat Arculus, and the WSM of Pearson who at least managed to complete a photo call for three laps with the Flavian Lurvley WSM.
RACE 2 - With grid slots decided by race one finishing order, alarm bells rang at the back of the grid where Tom Smith loomed. Headlamps ablaze and a halfshaft to cane, he obliterated the grid to take fourth after one lap. Johnson resisted the surging Smith for longer than most, but ahead James Cottingham was away and kept a healthy margin to the flag. Jersey resident Mark Yates' MGB kept the TR4 of John Andon narrowly at bay, the MGB's of George Edney and Graham Bates squabbled constantly and the immaculate Jaguar XK120 of Nick Wilkins collected a puncture after seven laps.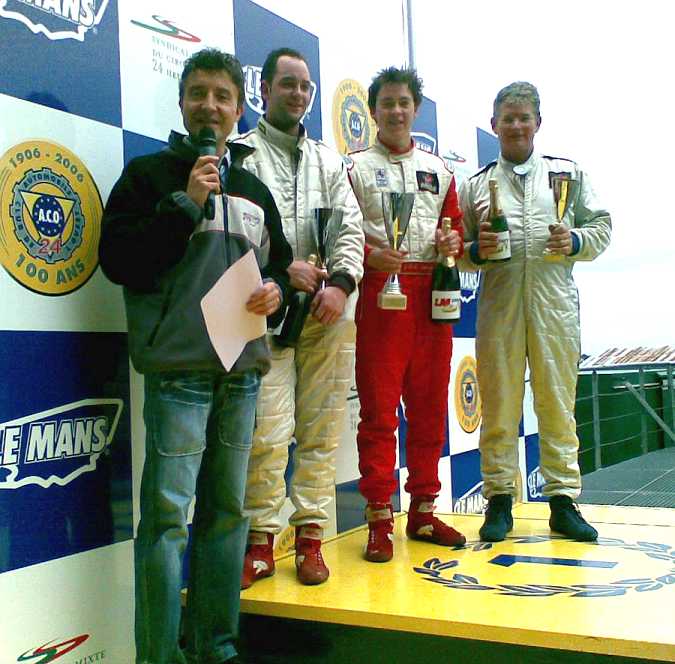 Race Two - left to right Tom Smith, Jim Lowry, James Cottingham, Christophe Willmart, Malcolm Johnson
PITLANE - A reworked halfshaft lasted the distance in race one for the Freeman MGB, to some surprise, but Rob Cull went to work with an arc welder organised from Paris by Christophe Willmart to ensure race two was completed . .
Ron Cody had everyones sympathy after the oil pump drive gear on his MGA failed during Friday practice and wrought major damage after just one lap . His good humour and knowledgeable assistance to others for the rest of the week-end was simply inspiring . .
The invisible elastic that ties ex-MG TC racers together is as strong as ever - qualifying less than a second apart, and finishing both races with a combined gap of less than 4 seconds in their MGB's, Tim Patchett and Bob Allen must be close to picking curtains together . .
John Andon and his Barley Mow crew deserve a shout for the BBQ generously supplied on Saturday night - priceless entertainment, and in the form of Jurgen (Mama) Felske, we know that Germans DO have a sense of humour . .
'Equipe' MGB's featured in full race action on the front page of the locally produced race newspaper . .
Click on (slow download, click on 'Le Mans Story - 8 Juillet') for pix of all 'Equipe' cars from Le Mans Photos . .
Click on for race pix from MG Club de France . .
Click on for results (for 'Equipe GTS' read 'MG Midgets')

Surprise guests - comedians Robin Williams and Ken Dodd ?

AND FINALLY - a tribute to a busy grid that no contact was made, especially in the crowded scenes at the chicane before the Dunlop bridge on the first laps. Nick Wilkins, open to the elements in his Jaguar XK120, remarked that repelling boarders felt more like the order of the day, such was the proximity of smoke, noise and drama all around . .
Next 'Equipe' race at Knockhill 21st/22nd July . .
With thanks to our foreign correspondants Flavian Lurvely and Graham Bates, a pictorial flavour of the week-end . .