WSM Newsletter -
an amalgam of previous editions
04-08-04 From David Moore (see WSM - The People)
'Thanks for the latest newsletter. Re Barry Pinkerton's query, I am afraid I
cannot claim to be Alan Moore's son ! My father was a very keen motorsport & Bugatti enthusiast but unfortunately never aspired to being a competitor. He was keen enough to attend several of the GPs in the 1930s including the 1937 & 1938 Donington races as well as the 1935 Eifelrennen at Nurburgring. Being also a keen photographer, I have some splended pics from those three events. Now confirmed that I will be spectating at Goodwood Revival on the Saturday so hope to meet you then.
Best regards
Kent Bain, ex-WSM 207 racer in Connecticut, outlined what it takes for top fuel dragsters to go about their business. Apart from the mind boggling engine stats, what summed up the facts and figures best for me was that if we got in a McLaren F1 and crossed the start line at 200mph as the 'tree' went green, the dragster would start, catch and overtake us in 3 seconds and within the quarter mile ! See WSM - The People.
Josie Jefferson has been in touch and sends regards to all in the WSM loop - Josie worked at Delta Garages in the late 50's, early 60's, and was at Rockingham in 2001 with son Stuart. Josie says that DW-S was good to work with and she enjoyed her time at Delta alongside Laura Lewis. See WSM - The People.
Great idea from Guy Loveridge and company in clubbing together to prep a Citroen 2CV and entering a 24 hour one make race during the summer at Snetterton – bon chance. Sneaky move getting Sky presenter Claire Furnell on the driving team too – mega coverage Loveridge !

Manx connection - Roothams Green, Bedfordshire, home to WSM owner Paul Woolmer, has an ex-Isle of Man TT winner as resident. Ray Pickrell, pictured leaping Ballaugh Bridge, rode the TT between 1967 and 1972, taking 1st place in the 1968 Production TT on a Dunstall Norton, racking up 7th in the 1970 Junior TT, 3rd in the 1970 Production TT on a Norton, 2nd in the 1971 Formula 750 TT on an Aermacchi, and riding the famous Triumph 'Slippery Sam' to victory in the 1971 and 1972 Production TT's, and the Formula 750cc TT of 1972.

Hats off to TT riders throughout the years. No matter how many times I travel the course, it makes my hair stand on end when considering that in 1972 Ray averaged 104mph around the 37 3/4 mile street and mountain circuit. I cannot imagine which is worse – a 104mph lap on 1960's technology and bumpy roads, or a 120mph lap on a current superbike and flatter roads.
To add some four wheeled perspective, former rally driver and Isle of Man resident Tony Pond took a Rover 827i around in between TT races with roads still closed and just broke the 100mph lap. He died of cancer in 2002 but his mantle of four wheeled 'King of the Mountain' remains after impressive displays on the Manx Rally over the years and hurling the unwieldy Rover with no rollcage around the Mountain course.
Welcome to Eddie & Ann Wright who join the WSM loop. Eddie was a key

member of the spray shop team at Delta Garage in the 1960's, and featured as a guest at the Rockingham WSM re-union in 2001 and Wing 2004 (left). See WSM - The People.
Exported in 1963 to the USA, WSM 203 is racing again. Hayes Harris in the USA sold the car to a customer in Japan a few years ago, and more recently the WSM changed hands once more. The low mileage car lives near Tokyo, and is very competitive in local historic racing. The current owner runs the WSM alongside a pair of Marcus Gullwing GT's and a 1964 MGB, and is keen to visit the UK and see the other WSM's.
WSM3000 instigator Malcolm Bridgeland at Woburn hill climb July 4th 1965, prior to

delivery of their first born son David in August, remembers taking DW-S, Peter Jackson and Jim McManus to 'The Bell' public house in Aston Clinton on the Saturday night, and thus explains why he did not feature in the awards process on Sunday.
Malcolm also made reference to a well behaved brat at Woburn that day. The boy was told repeatedly not to jump on and off the WSM trailer, but did so and broke his arm. The boys father, who had yet to complete his timed runs, insisted that . . ."he can bloody well wait until the end of the meeting". . and it was two hours later before Aylesbury Hospital had their most important intake of the day.
Welcome to Mick Hancock - Mick was another member of the expert Delta spray shop from 1964 to 1966. He recalls spraying the WSM MG1100, the Delta breakdown truck and the AEC coach that was converted into a car transporter with accommodation. Mick went on to run his own business until 1972 when he joined Prudential, and went independent again in 1993. An abiding memory of Mick was the thick ear he would administer whenever I poked my nose into the spray shop - I used to repeat the intrusion, so it was not nearly hard enough – and we enjoyed his company with wife Mary at Rockingham in 2001.
Ivor Gurney attended the scene of an incident in 1963 where Peter Jackson was road testing an E-Type following work completed by Delta Garage. Clipstone Lane plus one wide bus plus one E-Type equals more work for Delta Garage. Initially thought to be the E-Type belonging to Delta Garage customer Richard Palmer (Duke D'Mont, lead singer with the Baron Knights) but not this one - Ivor remembers Richard had a red E-Type and trawled through the archives to confirm it.
Pinkerton Files - 'Classic & Sportscar' March 2004 – followed an article in the C & S December edition on Sydney Allard's special Steyr-Allard, where John Griffiths suggests that the Dr Pinkerton referred to may be Robin Pinkerton's father in 1952. He also mentioned sibling Barry Pinkerton who emigrated to California, and of nearly buying a special bodied Sprite (WSM ?) from Robin.
Snowperson – an inch of snow caused half the Isle of Man to come to a standstill yesterday, yet jubilantly welcomed by my 14 year old twin girls in the absence of school. They proudly displayed the results of their labours in the garden, and their snowwoman was an impressive feat of design and modelling, if you know what I mean.
I can only hope they do not repeat the exercise with such detail and skill if they build a snowman.
February 2004 - 'Aloha' to John Sprinzel and 'no worries mate' to Phil Evett – simply because you are in Hawaii and Australia respectively and we are freezing our whatsits off here. Also curious as to how the restoration is progressing of the Sprite that Phil bought from Jim McManus at H A Saunders (Rickmansworth) in 1965 ?
Thanks to Ivor Gurney's assistance, we are in touch with the current owners of the cottage in Wing, Bedfordshire where the picture of four WSM's in 1963 was taken – 'Octane' monthly magazine is keen to re-create the picture in 2004 as headliner to an article . .


11-03-04 Welcome to Ray Halsall – we lost touch with Ray after meeting him at the 1995 Coys Historic Festival at Silverstone, so a nice surprise to get a call via an enormously long grape vine. Ray crafted the fibreglass ultra lightweight WSM bodyshells at Delta Garages in 1963 and his comments about a certain child on the Delta premises seem to echo those of Mick Hancock and Eddie Wright in the paint shop. A wonder that the child had hearing left after his ears were boxed so often ?
07-03-04 Welcome to Brian Overton who owned a lightweight WSM between 1968 and 1977,probably the car previously owned by Mike White, Bill Viney and Geoff Hill . Brian purchased the car almost on a whim after seeing the car parked outside a shop circa 1968. He changed the colour to Porsche Tangerine and recalls having some pix of the car at Brands Hatch when Bill owned and raced her in about 1965 – more details next month.
01-03-04 Strange how public houses stick in the mind – Malcolm Bridgeland (WSM3000) remembers 'The Bell' in Aston Clinton from 1965 being responsible for a trophyless day at Woburn, and Phil Evett (who emigrated to Australia way back in 1967 – more on Phil's car in later editions) recalls 'The Five Bells' in Stanbridge and the 'Village Green Inn' at Northall – the beer must have made a good impression on the boys. See WSM - The People.
16-03-04 Talked with John Miles today, ex–F1 driver with Lotus. John worked at Delta as a mechanic for a brief spell in 1964, and is a good friend of Peter Jackson with whom he shared accommodation in Islington at that time. He was racing his own Diva GT and had an opportunity to race the WSM at Brands with Peter circa 1964 but recalls that it broke before he could drive the car.
12-03-04 Welcome to Adrian Critten – who mended and painted bumps and scrapes on WSM 301 following damage in 1998. Based at Jurby in the Isle of Man, his work is first class and he is on the lookout for more projects following recent completion of an MGA.
16-03-04 Learn something new every day - talking with Robbie Gordon and learnt that he owned WSM202 after Mike Lewis. Robbie bought the car from Mike and had the car for six months before trading it back for something more practical.
23-03-04 Wing, Bedfordshire on Monday 22nd
Thanks to everyone who joined us. Roy Fuertado, Ivor Gurney, Robbie and Mary Gordon, Owen Gough, Ray Halsall, Mick Hancock, Peter Jackson, Josie and Stuart Jefferson, Jim and Peggy McManus, Chris and Mavis Parker and Eddie Wright - your company and patience was appreciated.
Thanks to 'Octane' magazine and Ian Dawson (left) and Andrew

Roberts (right) - their knowledge and professionalism bodes well for the piece to come in the monthly (tba) publication. The Leighton Buzzard Observer newspaper feature an item on Tuesday 23rd so some of you already have copy - for the rest of us I hope to get details with the next WSM news at least.
Special thanks to David and Angela Varey for the use of their property and their hospitality – we were an imposition and I hope the neighbours have settled again.
25-03-04 Interesting item from Josie Jefferson regarding a red 1949 Healey Silverstone being restored near Bracknall. Evidently in the same ownership for 44 years, registered KXN 875 and looking for a new owner when finished in white. Further details available on request.
02-04-04 Pictured left to right Rae Davis, DW-S and Joe Cox with WSM 207 in June 2003, the car having arrived from the USA in May.
Go, Jonny, Go Go Go . .
12-04-04 The Webb Ellis Rugby World Cup was over here during its UK tour, and the girls initially were keen to view it. Since England's triumph in Australia, I find occasional company on the sofa when rugby is televised. This is a dramatic change from my 14 year old daughters – the freedom of Next Fashion shop would not have enticed them to watch a single moment prior to the World Cup – but Jonny Wilkinson has indeed brought new fans to the game. He should know that he replaced Orlando Bloom on our screen saver, and also indirectly brought naked male Gallic charm to the household in the shape of the French national team calendar which was discovered during examination by the girls of all things rugby on the internet. Urgh ! Thanks Jonny.
Regrets . .
22-04-04 Email received yesterday from Mark Cox, prompted by seeing WSM 301 on the FISC website -
'Just thought I would drop you line, as a very keen British Specialist Sports Car enthusiast I have owned a few, Ginetta G15, Clan Crusader, Cox GTM, Piper P2 to name a few. When I was 17 (1977) I saw a WSM Sprite for sale in the local paper at nearby Maldon in Essex. I went to view it with my father, from memory it was red or orange, constructed from fibreglass and not aluminium and the engine was fitted with twin 40's. The car certainly looked like it had some competition history but the owner seemed to know very little about the car, it was stored in a backyard of a small factory commercial premises. My father put his foot down on this potential purchase as he thought it looked to fast for a 17 year old. I have often wondered about this car and regret not buying it, does it ring any bells?
Regards'
Mark - bells rang good and loud. It was possibly WSM 205 , originally registered MW 3 for Mike White in February 1963, and one of only two ultra lightweight cars built. Ray Halsall carried out the fibreglass work and can confirm just how light those cars were. Bill Viney raced the car in the 70's and Geoff Hill and Brian Overton were subsequent owners while registered VLY 540. Your comments follow Brian's recent confirmation that it was in the Essex area at that time, and Ray, Geoff or Brian may be able to shed more light on the subject.
Your regrets are not alone. Welcome to the WSM loop.
Isle of Man TT . .
04-06-04 John McGuinness sets a new lap record of 17m 38s around the 37.73 mile course. I swear these guys know a short cut . .
'She's Behind You . .'
14-06-04 Welcome to Tom Coulthard. Sprite historian, writer and actor, Tom was responsible for kicking off the WSM revival in 1995 when he called the Isle of Man ahead of the Coys Historic at Silverstone. He said Leo Kusters would be racing WSM210 and Paul Woolmer with BXN and would it not be a good idea to involve WSM301. See WSM - The People. Subsequent expenditure means wife Claire would like a word with Tom . . .

Michelle Mouton & Tom Waterworth at the Bluebell pub in Sussex taken during a break from the Goodwood Festival of Speed action in 1996. Hannu Mikkola is sat out of shot opposite Michelle, and WSM301 is parked outside for a Classic & Sportscar feature. Tom is Godfather to our twins and hillclimbed and raced WSM301. See WSM - The People
Actman - Aloha . .
11-06-04 In Newsletter 12, Phil Evett wondered whether Andrew Actman had any connection to a Sam Actman that he knew in the 1960's before Phil emigrated to Oz ? John Sprinzel from Hawaii knew –
'Yes indeed, I understand Andrew is Sam Actman's son. Sam navigated for me quite a bit and was a good pal - we met at the Harrow Car Club a VERY long time ago. In fact he wrote a Christmas story for their magazine in which 'Girling Foss' was the hero and 'Shakey Jake Sprinkle' was the villain. Ever since then 'Shakey' has been my nickname with those who remember rallying in the fifties and sixties.
Aloha
Actman – Aloha 2 . .

13-06-04 Welcome to Andrew Actman, mentioned in dispatches when at Donington for the Top Hat racing in March, and contacted again recently for details on the Actman Eyewear Midget race at the MGCC Silverstone race on 24th July.
Letter from America . .

10-06-04 Bill Emerson, head Healey honcho in the USA and author of the definitive 'Healey' book produced in 2002, has added to his collection –
'You might like to know I have the 1948 Westland that Donald and Geoff Healey took from New York city to Hollywood, California in 1948. The car is complete and runs but the aluminum body needs the fine touch of a craftsman, so it is going to Steve Pike in Australia for show/go completion. Attached is a photo taken in California in 1948 - I'm looking for the lady now that I have the car. ' See WSM - The People.
HSCC Silverstone . .
10-06-04 Good to see ex-WSM MGB owner Tony Bianchi giving his Allard 'Farrelac' a blast at the HSCC Silverstone event, taking second place in the HGPCA Drum Braked Sportscars after hassling the eventual winner in a Maserati 300S.
Racing Lives . .
12-06-04 Welcome to Simon Arkless. Page 13 in the June 10th edition of Autosport has a

section called 'Racing Lives' and featured Simon, currently Champion spark plug officianado and ex-WSM owner and racer in 1963/4. Simon bought a lightweight WSM Spridget for racing in 1963 from Mike Lewis. Badged as an MG, the car was quick in Simon's hands but when regulations changed Simon sold the car on, probably in 1964. He recalls that the car was changed back to road spec and sold off the Chequered Flag garage premises in Chiswick. Based near Birmingham, and having to travel to all the Grand Prix in his Champion capacity (no sympathy from us then), Simon looks forward to seeing WSM's at first hand again soon. See WSM - The People.
04-05-04 Tom Delaney won a handicap race at Silverstone last week in the Lea-Francis he first raced at Brooklands in 1930 – he is 93 years of age. There is hope and a couple of years for Clive Cocks then . .
". . Wuzzums were the prettiest . ."
18-05-04 'Classic & Sportscar' June 04 edition – Interesting 'Letter of the Month' from Barry Pinkerton in California in response to Barry Griffiths letter last month. DW-S knew Dr Jack 'Doc' Pinkerton and he was quite a character - the list of 'racer' and 'non racer' cars that he ran is fascinating. Barry also comments on DW-S's '". . eye for design" and is obviously a fan of the WSM marque.
HELPLINE - ERE156B
10-05-04 Welcome Trevor Kemp to the WSM loop, a connection through Christophe Willmart and Jim Lowry at the TheMGTeam, who sent the following to help find a car he once owned –
'The midget (and I am pretty certain it was as I joined the MG car club) only did one Silverstone sprint meeting in my hands. It was the weekend after that it met its demise on the Kingston by Pass - got out of shape at 90mph plus and it did not come back like my Mk2 Jag used to ! The bonnet is not the original which was in aluminium (this was a Speedwell fibreglass replacement). The coupé/doors (& originally the bonnet) were all aluminium, windows in plastic. I owned the car in 1971/72. It was originally registered ERE 156B in Feb 1964 as a white 1098cc midget in the name of The Dudley Port Service Station – a garage. It then transferred to Richard Neal in July 1965 when the engine became a 1420cc (engine number DA/H30849) and the colour blue / silver. At some point it reverted to a 1098 (which as I explained was a special - all the bolts being wire secured).
Subsequent owners were Roger Dadd / Paul Webber / Carol Drewitt / Lawrence Mahon (a close friend of mine from whom I bought it - he also had Barry S-S's MGB). For some reason (lets say stupidity !) I did not note the chassis or engine number when I had it. I sold the body shell complete with the log book (again no note of who it went to). It was in today`s context repairable. I have been thinking of sending it in as an article to the MG Car Club to see if anybody can give any more history.
As I said I would be interested to find out its history but also very keen to buy it back - or at least first option to do so.'
If anyone can help, please contact Trevor at kemp@geosrv.com .
1957 Frogeye PBL 75 . .
We asked Phil Evett in Australia about the Mark 1 Sprite that he has owned from 1965 –
. . 'Not sure that PBL 75 was a show car but it was certainly featured in a lot of promotional items all those years ago. Here are a few details. The car was first registered on January 30th 1958. This was well before March 1958 when records show that production commenced. The Sprite was announced to the world in May 1958. I don't believe that there are any recorded registrations before this. Some of the Lucas parts are stamped 11/57, so I guess it was put together around Nov/Dec 1957.
A road test report on the car appeared in the May 23rd issue of 'The Motor' and 'Autocar' magazine on June 20th 1958. It was also used for many posters of the day and is featured in dozens of other magazines and books.
It is well known that during the 50s & 60s many BMC cars did not have what we now call 'matching numbers' and the very early Sprites are a case in point. PBL 75 was put together having chassis number 7, engine number 3 and a body tag that shows number 5. However when it was recently repainted we found stamped in the body in large, non production, letters the words 'Body 4'. So make of that what you will !
In Geoffrey Healey's book 'More Healeys, Frogeye Sprites and Midgets' (page 46) he talks about pre-production Sprites which followed prototypes Q1 and Q2. He talks about Gussets that were fitted to these cars and re-tested by Austin (for torsional stiffness etc). The really early production cars had these gussets welded in before a modification to strengthen the whole wheel arch was implemented from chassis number 10344. PBL 75 was fitted with these gussets but they were bolted in and then tack welded. They are still there. So, there were certainly two prototypes, then an unknown number of pre-production cars, and then the early production cars. Given the bolted in gussets and the registration date, along with the fact that the production line got under way in March 1958 it seems clear that the car is a pre-production unit. What happened to the others no one seems to know.
I was in England in 1999 and I visited the Heritage Centre at Gaydon. I thought I might check out what they could tell me about the car's production. I had a bit of trouble convincing Anders ??? (the author chap who was running the place) that I owned the car in question but did so eventually and he said he would have a look. They usually take three weeks to do all this and send you a certificate but he said he would have a quick look while I was there. He found no record and said he would dig deeper and let me know. He got back to me about a week later and confirmed that there was no appearance of the car in Abingdons official production records. Another pointer I think to it being a pre-production car.
A few years ago Ray English, who gave me your email address originally, bought a film that was on offer in London. It was a 16mm BMC factory film taken at Silverstone. It only runs for a few minutes but it features PBL 75 being tested at Silverstone by Roy Salvadori with commentary by none other than good old John Bolster. It is hilarious to watch ! Everything of course is from 1958 and seriously historical. The circuit, the mechanics, Roys clothes and of course JB. There are shots from an in-car camera so I guess that was an early attempt at that too, although we have all seen a camera in Fangio's car in the 1930's. Ray later put the film onto DVD so if you would like a copy just say and I will copy one for you.'
26-05-04 Now You See It, Now You Don't . . . Welcome to Mick (nickname Guinness) and Lorraine Fuller. A bottle of red wine accompanied Mick to our door yesterday and a (relatively) new email address. Mick and Lorraine are regular hosts to TT riders from France, hence a garage full of vin rouge, and I was surprised this bottle escaped Lorraine's clutches given her past record with my wife Claire - as illusionists they make vin rouge disappear on summer evenings. Mick has an early MGA sat patiently awaiting restoration, and joined us on a 24 heure du Mans jaunt a few years ago. Also a two wheeled petrol head, his daughter too has four star in her veins and enjoys karting at Jurby.
25-06-04 Jaguar XK150S . .
As pictured in these pages previously, the rare 1959 3.8 litre fixed-head coupe, of which
just 150 examples were made, was rebodied by DW-S and Peels Coachworks in 1967 as an estate for owner and friend Douglas Hull. The car was entered for sale at the Bonhams Goodwood Festival of Speed auction today and described by Bonhams as . . 'a unique and quite extraordinary example of the ultimate thoroughbred Jaguar XK series, the 'S' specification XK150 was a unique prototype which conformed perfectly to the requirements of VSCC ERA racing luminary Douglas Hull'.
Acquired by Peter Janssen in the 1990's and extensively refurbished, lot 741 was estimated at £60- £70,000 but did not sell. See WSM - The History.
'Grizzly' Adams . .
30-06-04 Welcome Nigel and Angela Adams to the WSM loop. Good to hear from an old friend whom we met at Healey championship rounds in the 1990's and circa 1998/99 enjoyed a cracking night at the Healey dinner in Stratford. Pictures of the dance floor entertainment that evening with Nigel and wife Angela are still under lock and key in the Isle of Man, so we have an 'understanding'. The picture on the front page of Revcounter had Sir Stirling Moss in the car at the NEC Classic Car Show. Pictured left shortly before crossing the line at Cadwell this year in the Healey Championship for his first race win, and pictured right in the process of delivering his appeal against the organisers decision to ban the use of chicken legs as drivers aids.
25th Healey International . .
28-06-04 The Wyboston Lakes hotel and conference centre in Bedfordshire was an excellent venue for the Eastern Centre organised annual Healey bash. Patchy weather on Saturday did not deter visitors, and a good crowd on a warm and sunny Sunday saw a stunning display of works cars and road going Healey's, and a gathering of special guests including Margot Healey, Marcus Chambers, Donald and Val Morley, Peter Riley, Bill 'Jock' Reid, John Harris, Mike Garton, Stuart Turner, Peter Jackson, Robbie Gordon , Jim McManus and DW-S.
Four WSM's were displayed alongside some famous 'big' Healeys, and further guests with WSM connections were Ray and Mary Halsall, Robin Pinkerton and Owen and Lynne Gough.


Owen and Lynne arrived in appropriate wheels, namely a very smart red 1959 Frogeye Sprite and Robin, sadly without wife Mardi who is ill at present and to whom we send a 'get well soon', is pictured beside the two WSM cars that he owned in the 1960's. Dinner was an extremely sociable occasion, and brought together a plethora of diverse and entertaining characters. Congratulations to the Eastern Centre team who deserve the plaudits for an enjoyable week-end.
Eye, Eye . .
16-07-04 Had a beer with Andrew Actman last night following a 'phone call to say he was in the Isle of Man on business. He watched the Southern 100 motorbike races the previous evening and was impressed by the speed and spectacle of the 'mini TT'. Interesting to talk with him on the characters around with his father, Sam in the 1960's, and Andrew seems to have inherited a similar love of motorsport. Andrew has built the Actman Eyewear business from scratch and has a variety of events he is able to enter, even receiving support from Daihatsu.
Ding Dong . .
Lorraine Clarke and David Gathercole tied the knot in Whittlesea on Saturday 10th July despite Lorraine feeling a mite tender after a bruising accident at Nurbergring a few weeks ago. However she looked, as Terry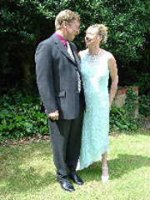 Thomas used to catchphrase . . "ding dong ". Surrounded by the trappings of motorsport and in lively company, best intentions to stay sober for a minor job on the WSM MGB on Sunday morning went awry. Recall rocking away with the gorgeous Lizzie Woolmer, but respect to Sue Cocks, Sharon Woolmer, Louise Storer, Lorraine and Claire W-S for their involuntary participation in the floor

show and apologies to the rock chick singer with the band. She could sing, look good and dance. I cannot.
A French chateau awaited the newlyweds, 'Shuey' won at Silverstone and there was an ambulance outside our hotel on Sunday morning – a maid reported two corpse's in room 15 but we felt better after breakfast.
Letter from America 2 . .
13-07-04 Heard from Barry Pinkerton today in response to last months Newsletter -
'Glad that I was at least able to contact you through Hotmail (though I rarely use it). Thought I would again try your main address and copy to your home, so that hopefully one of them will reach you. By the way, I live in Glendora, California (a Los Angeles suburb) though Oz is on our list of countries to visit, now that retirement has loomed!
I was very interested to receive your WSM Newsletter and would certainly like to be included in your mailing list. Just let me know what cost is involved. Having lived out here on the edge of the world for the past nearly 30 years, it was so nice to hear news of some of the characters I knew from all those years ago. Actually, I did speak briefly with Douglas a few years ago. He called to speak to brother Robin while I happened to be visiting. He sounded just the same, and from photos I have seen he doesn't seem to have changed much physically, either ! Must have discovered the Fountain of Youth. Please give him my kindest regards. To your sister, Laura Lewis too. I still recall the excitement of her passing her Driving Test on her 17th birthday.
Your listing of people who receive the Newsletter also raised a memory or two, particularly Jim McManus, Peter Browning, Peter Jackson and Phil Evett. Jim was a very smooth and competent Autotest exponent, despite not competing on a regular basis at the time I was in the sport.
Then there was the article regarding Phil & Bridie's early Sprite. How terrific to realize they still have the car after all these years – a prized possession, I am sure. Having taught Bridie to drive, I would like to get in touch with the Evetts to make sure she hasn't picked up any bad habits from Phil, and also to exchange views on expatriate life !
Phil was asking if Andrew Actman is related to Sam Actman. I don't know, but I did work with Sam at Ian Mantle's garage in Biggleswade in 1966/67. If memory serves me aright, Sam was sadly killed in the late '60's in a hotel fire in Bishops Stortford. I, too, would be interested to know if "your" David Moore is Alan's younger son.
I still miss my first and best Sprite Mk 1, which I turned in to Delta after the 1965 season. ORS 743 was rather tired by then, and I don't suppose it has survived, though it would be nice to think that it has. I had previously bought one of the rare Austin A35 pickups from DW-S (lovely little machine) and swapped its single-carburetted Downton motor into "ORS" which I used extensively in Autotests during 1965. By the way, you were correct that I bought the Sprite from Maureen Manser. I was in touch with Maureen out here for a while, as she lived (may still live) in Los Angeles.
I gather that four WSM's remain unaccounted for. I don't know if any might be here in the States, but I will keep an eye out. Are the missing all Spridget-based cars?
All Best Wishes'
Confirmed that the missing cars are Sprite based. Ed.
Cheers Piers . .
29-07-04 Had a natter with Piers Hubbard who called by at Silverstone and who has helped trace WSM's. Also read in the race programme about his help to the MG Club, the article leaving no doubt about the effectiveness of his contribution to the club's current success. See WSM - The People.
Octagon On Three Legs . .
16-07-04 Excerpt from Brian Rainbow's email prior to visiting the Isle of Man with the MG Car Club –
' . . I have'nt seen your father for many years. I remember the WSM's back in the mid sixties when as a Sporting Owner Drivers Club member I used to compete in the Woburn Hill Climb along with several WSM's. I worked in Leighton Buzzard for a while and remember drooling over the cars in Delta Garage !'
Octagon On Three Legs . .
19-07-04 MG Car Club to the Isle of Man July 13th - 20th
Glen Vine Gazette – " MG's wow locals with topless touring . . "
Under blue skies and sunshine, eleven glorious examples of the MG marque
graced Glen Vine on Sunday evening. During the previous few days, independant reports had filtered in of sightings around the Island and if there was anywhere not covered by the inquisitive and tireless crew, then it must have been offshore. Steam railway, pubs, electric tram, museums, Rushen Abbey, Lady Isabella water wheel, Snaefell Mountain, motor bike racing, the Glen Helen, horse drawn tram, castles, beaches and restaurants, you name it, they visited - it must rate as the most comprehensive 'going over' the Isle of Man has had since the Vikings did some housekeeping.
The late night antics of the Port Erin 'yahoos' disturbed a few light sleepers but accommodation at the Falcons Nest Hotel was approved of, as was the invaluable
parking facility which offered peace of mind. The aviators ran the rule over the Percival Q6 at Ronaldsway, and even the Point of Ayre- not the most visited part of our Island - was checked out. We parted company after an enjoyable dinner at the Highlander restaurant on Sunday evening secure in the knowledge that Monday's lap of the TT course would provide still further entertainment, and that new acquaintance's will be renewed at Silverstone on July 23rd-25th for the MGCC event.
Please note : Editor is away riding shotgun to twin 14 year old daughters for two weeks, but please keep the contributions coming.

Marshalls Memories . .
Received from Mike Abbott whom we met at Silverstone last month –
Thanks for providing me with copies of your recent Newletters. Some of the names appearing therein brought back memories from a seemingly by-gone age!
When you next speak to your father, you might care to mention that I shall be having a few drinks next Thursday with a number of others whose names he may recall - Tony Mitchener, Steve Temple-Cox, Graham Warren and Alan Wakeling, all of whom were members of the SODC and were regular drivers or navigators / co-drivers (for me and others) in the latter part of the '50s and early '60s. We meet in London two or three times a year to "chew the fat" (we now live, respectively, in Sussex, Essex, the West Midlands, Kent and (myself) in Hertfordshire, hence a relatively central meeting place). I intend to up-date them on "WSM" matters in the light of our recent chat and the Newsletter content - I'm sure that they will be interested and will be particularly glad to know that your father is still going strong, if not belting around the countryside at indecent speeds (at least, I hope he isn't!).
Incidentally, in your Newsletter, you made passing reference to me competing against your father at Woburn - in fact, though I may have done so, it was mainly on rallies (in particular the "Rallyes Dubonnet") that we met head to head on a number of occasions. As I may have mentioned, your father contrived, on more than one occasion, to get car No 1 allocated to me and No 2 to himself - his theory being that (a) I was quick enough to stay ahead of him on the road and (b) I would wake up the control marshals so that I, rather than he, would experience any delay resulting from such personnel either not being fully awake or, more likely, not having got their act together ! (his ploy could be construed as "insider dealing" these days, methinks). For a period, I rallied / sprinted / raced an ex-works, ex Eric Jackson / Ken Chambers Group 1 Ford Anglia, which was capable of holding its own against a WSM Spridget. As for Woburn, my main recollection was being appointed "bison marshal" on one occasion - a probably unique role never performed by anyone before or since (it involved ensuring that Woburn's bison herd didn't escape when the access gate to the hill-climb location was opened to allow competitors to the paddock or wherever !).
Your reference to Barry Williams prompts me to mention that he will soon become President of the BMMC (British Motorsport Marshals' Club, aka British Motor Racing Marshals' Club), replacing Stuart Turner when he steps down later in the year. Though Barry probably doesn't yet know it, I was largely instrumental in suggesting and promoting his "suitability / eligibility" for the post - I'm not sure whether I owe him a drink or he owes me one !
As someone else mentioned, a number of your e-mail addressees make interesting reading …
I'll hope to see you again in the not too distant - though preferably not in the Clerk of the Course's office!! And, for the record, I'm now in my 48th year as a "marshalling honcho", as you put it; mis-spent youth comes of age??
Anyway, please remember me and my above-named drinking (and erstwhile competition) colleagues to your father and wish him well when you see him.
mha@mike-abbott.co.uk